From one case to pallets and anywhere in-between
Wholesale

30x2.5oz House Blend
Our delicious house coffee with a mild roast and a smooth finish. This case has 30 packets each weighing 2.5 ounces.
View details
Raptis Coffee is a coffee roaster, and manufacturer, we are not a re seller. You can buy most of our products here on our website, this is great for home users, offices, restaurants and cafes. If you are an Office Coffee Service provider, or are interested in purchasing larger, pallet size quantities, we have a wholesale program that can work for you.
Our pricing is pretty simple, and for our stock items you can order from the website.
Place an order over $300 and you will get a 15% discount
Add discount code "OVER300" at checkout
For orders over $1,000 you can get a 25% discount
Add discount code "OVER1000" at checkout
**For orders over $300, shipping is not included in the price**

We can ship via UPS, Fedex, USPS, or for pallet size shipments we can arrange for LTL or Truckload shipments.

Fractional Packs:
Starting at 1oz packets, and going up, we can produce pillow pouch bags of coffee designed to brew one pot. A few of our most popular blends and sizes are here on our website. A standard 42 x 1.5oz of one of our blends will fit 180 cases on a pallet.
We can nitrogen-flush the packets for freshness, and we can print a 200 dpi monochrome images directly on the film for the blend name and date code, and even a version of a logo or simple image.
We can also use full-printed film with registration marks.

We can package in 2lb and 5lb bags. We can do pillow pouch bags, packaged 2, 4 or 5 in a case, or retail packaging in stand-up side gusset bags.
We have in-house label printing capabilities for simple blend/date codes, or full color retail labels.
All of our bulk packaging has one-way air valves for freshness.

We have a full line of 12oz - 16oz retail packaging. You can see the copper color bags on our items on the website, but we have a variety of colors in stock, and can also print full color labels in-house. We can also help you with fully printed bags.
We can produce single serve coffee made for use in Keurig machines.

You have the option of buying our stock products that use the "Raptis Coffee" brand, or you can have the coffee private labeled under your own brand. Lead times are generally longer for private label, and the cost can be higher, depending on the options you choose.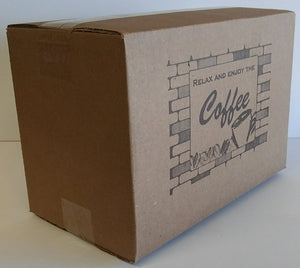 42x1.5oz House Blend
Our delicious house coffee that is a mild roast and a smooth finish. This case has 42 packets each weighing 1.5 ounces.
View details
We accept major pay methods